INTIMATE BENEFIT EVENT: SONGS OF SPIRIT – SONGS OF STRUGGLE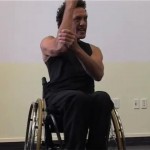 We hope you will join us for an exciting fund-raising event: Songs of Spirit-Songs of Struggle: With Dr. Ysaye M. Barnwell, formerly of Sweet Honey in the Rock; Shira Cion, Director of Kitka Women's Eastern European Vocal Ensemble; Rodney Bell, Maori member of Bandelion; and Eric Kupers, Artistic Director of Bandelion and the Inclusive Interdisciplinary Ensemble (IIE.)
The audience will be small (approximately 20 people) in keeping with our efforts to bring performance closer to audiences.  We will meet on March 22nd at 7:30 P.M. at a private home in Oakland (which is wheelchair accessible) to share in the sounds and stories of these performers and their cultures, and to raise funds for the tour of Bandelion and IIE's Tongues/Gather to Hilo, Hawaii in June.   The company has already raised $60,000 and needs another $20,000 to fund the 44 artists (with and without disabilities) who will travel on tour to Hawaii.
Gather is a sequel to our 2008 adaptation of Tongues. Tongues took the poetic play of the same name written by Sam Shepard and Joe Chaikin and turned it into a radically inclusive performance piece.  It brought together the IIE (a joint project of CSUEB and Dandelion Dancetheater,) Dandelion's Bandelion ensemble, and guest artists to explore the voices of ancestors, families, friends, and spirits we imagine one might encounter upon transitioning from life to death. The piece was chosen amongst productions from throughout the country to tour to the Kennedy Center for Performing Arts in Washington, D.C.
Gather moves on from Tongues to explore birth.  What does it mean to be born into a body, a family, a culture, a community? How do we come together to support physical and metaphorical births in our families of origin and families of choice? What do the vast diversity of cultures represented by our large community cast have to teach us about embodying birth in all its forms. Directed collaboratively by Kupers, with an original vocal score composed by Barnwell, and joined by Bay Area luminaries Shira Cion,   Laura Elaine Ellis, Kau'i Peralto, and  Melanie DeMore, the work relies solely on the human body for movement and sound accompaniment. Using contemporary dance fused with African, African American, Jewish, Pacific-Islander and more dance forms, it blends singing, body percussion, text and chanting.  Gather is a rich complement to Tongues' exploration of the dying process. Both pieces will be performed by the IIE, Bandelion, and guest artists in San Francisco, Hayward and Oakland before going on tour to Hilo, Hawaii.
Touring requires significant funding. And with a large and extremely diverse cast, that requirement grows exponentially.  We are close to raising adequate funding, but we still need your help.
Seats for the evening are $100 a person, and any additional contributions will be appreciated.
All payments are tax deductible.
Reservations will be limited, so if you wish to book seats email Ellen Coffey at: ellen.pulleyblank.coffey@gmail.com to reserve your place.  Please send checks (made out to Dandelion Dancetheater) to:  1310 Mission St., San Francisco, CA, 94103 —  no later than March 15th.  We will only hold reservations for seats that have been pre-paid.
We look forward to seeing you on March 22nd. Thank you for your support.
For more information feel free to contact either: Ellen 510.872.9357 ellen.pulleyblank.coffey@gmail.com or
Eric Kupers 415.806.0013, eric@dandeliondancetheater.org.