Welcome to the Dandelion Dancetheater website!
Bandelion's First Album is HERE!
Music from Stories of Our People is availabe as a two-disc CD or MP3 Download. Just click below to purchase and listen to songs from the performance as well as songs that were integral parts of the creation process, but haven't been shared publicly until now
Physical CD's and MP3 Downloads (full album and individual songs) are currently available online. Click below.
Click here for more info about this album, song previews and Bandelion Music
UPCOMING
Click Here for info on Baby Aki — 
Co-Artistic Director Kimiko Guthrie's debut novel!
********************************************************************************
Beware the Band of Lions III
2 Shows Only!  Sunday, May 29th, 4pm and 9pm
SF International Arts Festival, Firehouse Theater at Fort Mason.
More info: SF International Arts Fest
An evening of new works by Bandelion aimed at shifting the roles of performers and audience members towards creating a ceremony of healing and rejuvenation. Come join our experiments in making contemporary performance relevant and transformative for all the people in the room!
Plus an hour of healing music for rest, meditation, stretching, being—from 6 – 7pm at Fort Mason, room TBA.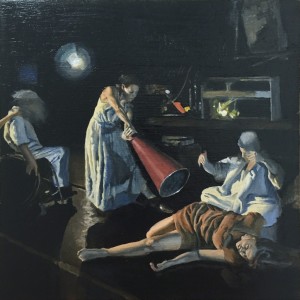 Blessed Unrest  by Bandelion  
June 22nd – 25th, FURY Factory of Ensemble Theater, Joe Goode Performance Space, San Francisco. More info: FURY Factory Info
A new work colliding dance, music, physical theater and a wild array of artistic perspectives, directed by Eric Kupers. Blessed Unrest is created with and performed by Bandelion: Bruce Bierman, Chris Evans, Christof Gallegos, Dawn Holtan, Corissa "Reese" Johnson, Nils Jorgensen, Eric Kupers, Keith Penney, and Frances Sedayao. Supported by a Network of Ensemble Theaters Exchange Grant, the Zellerbach Family Foundation and the FURY Factory of Ensemble Theater, this work was sparked from an exchange with Theater Grottesco (Santa Fe, NM) and Paufve|Dance (Oakland, CA) and then developed in Bandelion's interdisciplinary cauldron. Colliding stories of dreams and longings with new dance, music and images, Blessed Unrest experiments with direct communication and raw presence.
 
Blessed Unrest Cycles in Los Angeles
July 23 & 24, Afternoon and Evening Shows (exact times TBA,) Thinkspace Gallery, 6009 Washington Blvd., Culver City, CA.
Bandelion journeys south to join collaborator Adam Caldwell at his art opening at the Thinkspace Gallery in Culver City.
Adam has been photographing Bandelion improvisations, creating paintings from the photographs, and for this show Bandelion will take those paintings and use them to create further improvisations, completing the cycle. Woven through the improvisations will be excerpts from Blessed Unrest.
Click here for more info on Adam's work.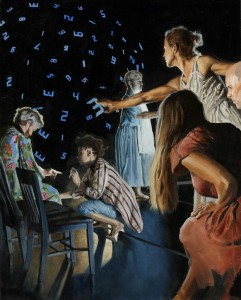 Photos of paintings by Adam Caldwell.
********************************************************************************
Please Note: All choreography, video, images, original text and original music are created by Dandelion Dancetheater, 1996-2016. Unauthorized duplication, showing and distribution is prohibited.