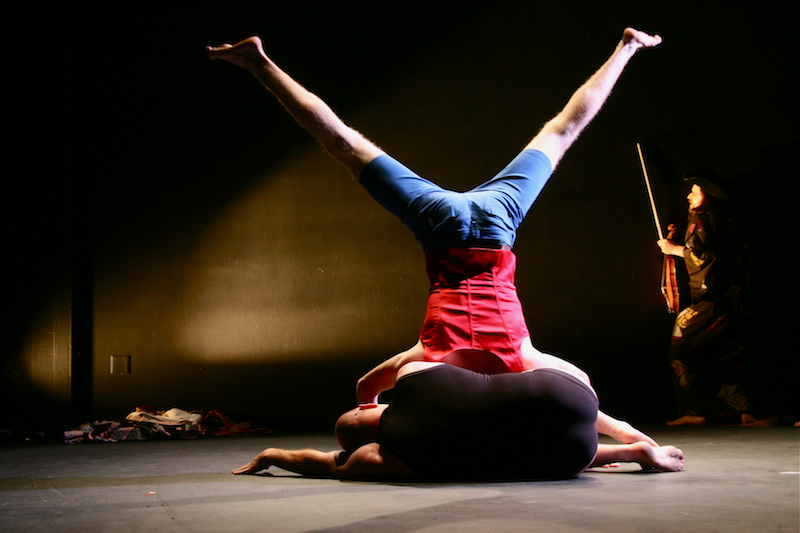 Bandelion is Eric Kupers' ensemble within Dandelion Dancetheater,
We are a tribe. We are a found family. We are committed to pushing and being pushed by each other, past familiar edges.
Our First Album Just Came Out. Click Below:
We are:
Bruce Bierman, grounded and playful Jewish dance specialist, interweaving theater, dance, and ritual Jewish performance for decades. Bandelion since 2015.
Chris Evans, classically trained professional cellist, experimental musician, blossoming dancer, active in Bay Area visual arts scene—she wants art in every aspect of her life. Bandelion since 2013.
Chris Gallegos, enthusiastic dancer, computer scientist, visual artist, video artist, clarinet player, singer, dyslexic improviser—he becomes a voracious velociraptor onstage. Bandelion since 2010.
Dawn Frank Holtan, dancer & choreographer, versatile improviser, writer of stories & grants, actress, unschooling mother of three—she wants to create raw, honest work. DDT since 1996. Bandelion since 2012.
Reese Johnson, dancer & singer, hip hop & jazz teacher, choreographer, budding drummer—she seeks healing & mending through dance. Bandelion since 2010
Nils Jorgensen, disability activist, athlete born with spinal cord injury, advocate for the marginalized. Bass-voiced actor and singer. DDT since 2008. Bandelion since 2015.
Eric Kupers, Director/Choreographer who loves putting aside his "in-charge" hat and being guided by Bandelions to dance, sing, play music and experiment.
Keith Penney, multi-instrumentalist, ardent rebel, anti-authoritarian, physicist, runs his own band, plays accordion, guitar, percussion, bass, piano—he's driven by fierce passion. Bandelion since 2008.
Frances Sedayao, fluid dancer, choreographer, playful actress, expert improviser, black belt in Tae Kwon Do, singer, flutist, Pilipino native—she's tiny but tough & captivating. DDT since 2001. Bandelion since 2014.
Deborah Trudell, dancer, singer, mother of two. She's been an active part of the CSUEB Inclusive Interdisciplinary Ensemble since its founding in 2006. DDT since 2001, Bandelion since 2017.
Bandelion collaborates. All ensemble members develop movement, sound, theatrical & design elements. We are inspired by Physically Integrated Dance, in which people with and without disabilities figure out how to move together, create together, and set up accessible structures for performance.
Our work includes different ability levels due to disabilities & devotion to different artistic disciplines. We each come with unique skills & unique difficulties, & we communicate rigorously so that we can effectively train, support each other, & create art we're all invested in.
We need regular rehearsal in order to be honest, to be fully real—so we rehearse all year long, whether or not we're preparing for a particular project.. We need to perform, to be so present that every second feels spacious. We need to not be controlled. We need to give, and feel lucky enough to be given something in return. We need a community of people that we can trust, love and depend upon. We are that community.
We want to explore how individuals can become greater than their individual parts—like starlings flocking. We want to have an impact on how other people see themselves and the world. We want to be free of fear, free of frustration, free of capitalism, free of racism, free of binary thinking. We want to contribute wisdom through the stories we share. We want to bring forth our deepest truths. We want all the insights of post-modern identity politics to be infused with ancestral needs for live art, in concentric circles of relations. We want the unexpected.
Bandelion began in 2006 when Kupers called together dance, music and theater artists to spend a year of intensive interdisciplinary investigation which culminated in the evening-length work Drop.
Go to: Bandelion's Upcoming and Previous Work
Go to: Bandelion's Ensemble Members
Got to: Bandelion's Music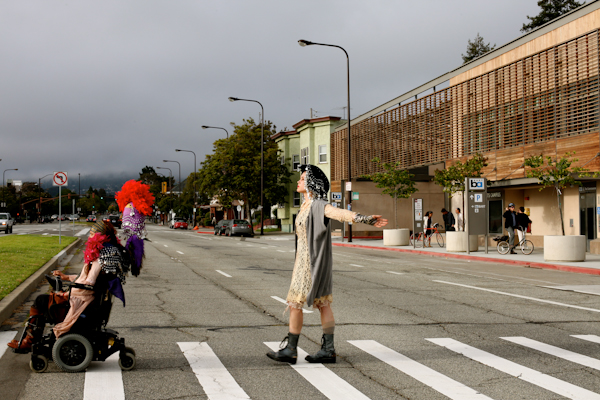 Photos by Faye Chao