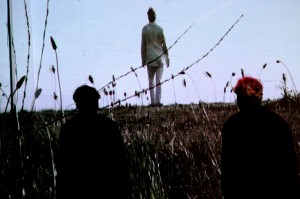 As we move forward as artists, we find it helpful to refer back now and then to past works. This allows us to see where we've come from, how we've evolved, and what are some core themes that appear throughout the company's journeys.
Below are videos of works created by Dandelion Dancetheater before 2006. Many of these videos were originally captured on some form of media that we never saw, then transferred to VHS tapes and given to us. The process of bringing them to you online has involved transferring from VHS to mini DV, then mini DV to a video editing program, and then from that program to YouTube. (This is all to say that the quality of the footage leaves a lot to be desired.)
This archives collection is a work-in-progress, and we will continue to add to it as we are able. Please enjoy, share with your people, and let us know any thoughts/feelings you have in response to these videos.
Coital Canvas Excerpts (2005, ODC Theater)
Home Season Pre-Show Moments / Warming-up (2002, ODC Theater)
Video Tribute to Manfred Schaechtle (2000-2002, Venue 9 & ODC Theater)
Start Adrift, Part II  (2002, ODC Theater)
Start Adrift, Part I  (2001, Venue 9)
Three & Mind Circle on the street at Edinburgh Fringe Festival (2000, High St., Edinburgh)
2nd Class Sleeper, Seat 26  (1999, Summerfest @ Cowell Theater)
2nd Class Sleeper, Seat 26 (1999, Dancing in the Streets @ Wave Hill, NYC)
Riverbed (1998, Summerfest @ Theater Artaud)
Miyo in the Middle Excerpts Part I (1998, Theater Artaud)
Miyo in the Middle Excerpts Part II (1998, Theater Artaud)
Bedtime Story Video (1996, ODC Theater)
The Fear Project Video (1994, ODC Theater)