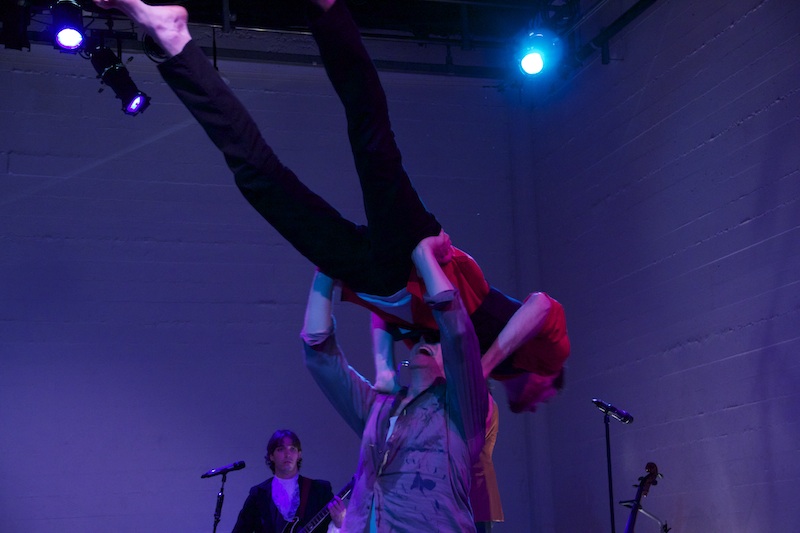 Bandelion rehearses and trains together all year long, ongoing. We are continually experimenting with intersections of artistic forms and perform finished and in-progress works at venues of all kinds throughout each year, in addition to creating full length works and in-depth collaborations. Current projects are listed below, with previous projects following:
For Bandelion's Music, click here: Bandelion Music
CURRENT PROJECTS 
2015
Bandelion is hard at work finishing our next immersive performance, Stories of Our People. Starting with queer creation myths by Andrew Ramer, Bandelion has been experimenting with perspectives on creation, birth, beginnings and belonging. This immersive, ceremonial performance adventure will take place over four

Sunday

afternoons in July, two different performances per day (Parts I & II,) for audiences limited to 18 people per show.
 Intimacy, improvisation, storytelling, and the creation of constantly morphing worlds–with live music, dance and theater. Also in the mix: an interactive installation by artist Lisa Carroll.
 World Premiere Performances, Sundays, 
July 5

, 12, 19 & 26
@ The Flight Deck
1540 Broadway, Oakland, CA 94612
Stories of Our People, Part I —  1:30pm
  Stories of Our People, Part II —  4:00pm
*********************************************************
Blessed Unrest (with Theater Grottesco and Paufve|Dance)
A performance project currently in development that explores the how we keep going towards what we love, despite obstacles, suffering and challenges– to be performed in bars, clubs and other non-traditional spaces.
Performances in Santa Fe, NM, November 2015
Performances in the Bay Area, December 2015
Supported by a Network of Ensemble Theaters Exchange Grant
2014
Bandelion rolls out a new 8x8x8 work, created specifically for the Uptown Nightclub in Oakland, including new and recent material, as well as experiments with volunteer audience performers.
Tuesday Jan. 21, 8:30pm, The Uptown Nightclub, Oakland
More info at: www.paufvedance.org
GATHER (preview performance 1)
A new work created collaboratively by Bandelion, the CSUEB  Inclusive Interdisciplinary Ensemble, Ysaye M. Barnwell (of Sweet Honey in the Rock) and guest artists.
Wednesday March 26, 7:30pm, ODC Theater, San Francisco
A remount of Tongues and the premiere of Gather
Bay Area and Touring performances
Spring/Summer 2014
More information about the project here: Gather/Tongues
PREVIOUS PROJECTS

The Bandelion ensemble first came together for the creation of Drop in 2007. Since then we have created and performed numerous works on our own, with other parts of Dandelion Dancetheater and with a wide range of collaborators. (Click on highlighted project names to see video excerpts and photos):
Drop (2007) Testiculish (2007 – with Jacques Poulin-Denis)
Oust (2008)
Love-Child Gets Sliced (2009 – Directed by Kimiko Guthrie)
Mutt 49 Crosses the Line (2009)
Mutt (2009, Co-Directed, Co-Written by Kimiko Guthrie)
Dan Plonsey's Bar Mitzvah (2010, in collaboration with Dan and Mantra Plonsey)
Don't Suck (2010)
Modern Dance Inferno (2010)
Six Degrees (2010, with local artists in Davis and Los Angeles)
Never the Same (2011)
WonderSlow (2011, with Dandelion Dancetheater, IIE, Navarette x Kajyama Dance Theater, Theater of Yugen and more)
The Dislocation Express (2011, with AXIS Dance Company)
Arthur in Underland (2012, written by Mantra Plonsey)
Modern Dance Inferno II / Seance (2012, with Paufve Dance)
Photo by Faye Chao