Dandelion Dancetheater leads workshops for people of all ages, abilities, backgrounds and body identities. Our team-teaching, like our work, reflects our passion for exploring the limitless possibilities of the human body and our commitment to using dance-theater as a means of personal growth and political change. We also lead participants in exercises to generate original, personally relevant movement and theatrical material, which can be woven into a brief performance piece. We work with the belief that our own bodies, gravity, the imagination, and surprises are often our greatest teachers.
We have worked with numerous communities such as the Northern Californian Association of Marriage and Family Counselors (Berkeley, California), the National Organization for Men Against Sexism (Rhode Island, New York, Minnesota), the State University of Hawaii at Hilo (Hawaii), AXIS Dance Company and Clausen House Program for Adults with Developmental Disabilities (Oakland, CA,) the Draavidia Performance Gallery in the state of Kerala in India and many more organizations and group settings.
Kimiko, Eric and other members of Dandelion also teach in the Theatre and Dance Department at Cal State University East Bay.
For more information about Dandelion's educational offerings, email: info@dandeliondancetheater.org
 *****************************************************************
PREVIOUS MASTER CLASSES/WORKSHOPS
Inclusive Dance/Theater: Training, Composition, and Performance
Friday Sept. 6th, 2013; 11:30 – 1pm
Taught by Bandelion's Eric Kupers and Cristina Carrasquillo at the Dance Exchange in Washington, D.C. (Takoma Park)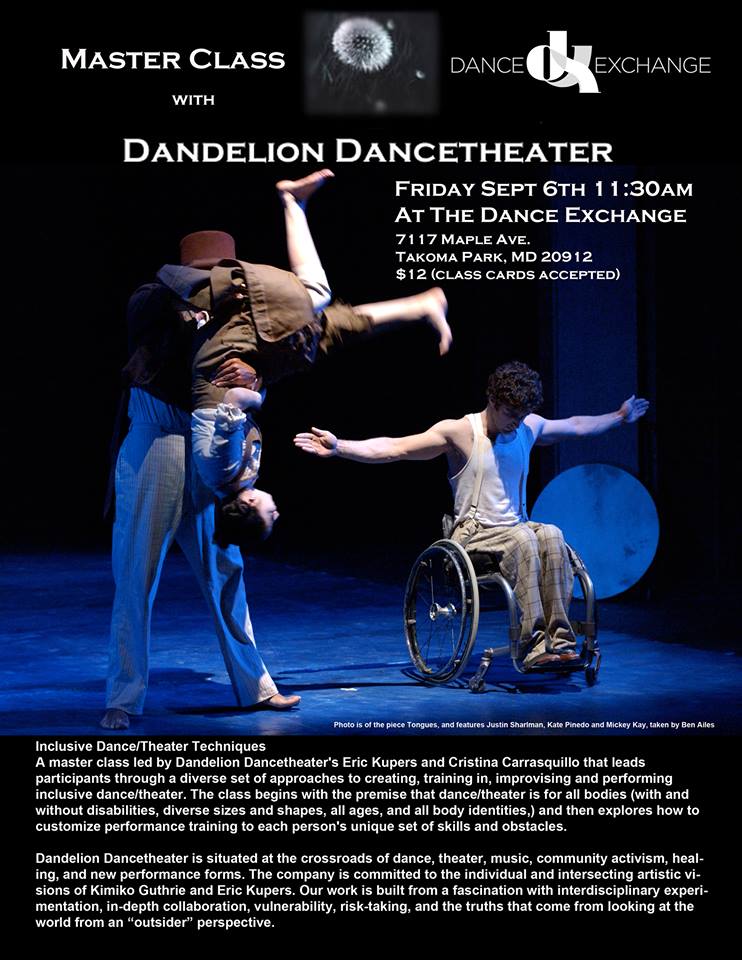 Top photo by CSU East Bay Art Department