Kimiko Guthrie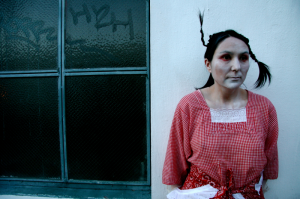 Kimiko Guthrie is the co-founder and co-artistic director of Dandelion Dancetheater. Her work has been presented throughout the greater Bay Area, as well as in Los Angeles, Yosemite, New York, Massachusetts, Minnesota, Hawaii, Scotland and India. She has been a resident choreographer for Asian American Dance Performances and a member of the Margaret Jenkins Dance Company, during which time she had the honor of assisting Ms. Jenkins in creating a piece on the Ginko dance Company in Tokyo. She has been the recipient of several awards, including grants from the Serpent Source Foundation for Women Artists, the Zellerbach Family Fund, Theater Bay Area, and a residency from the Djerassi Resident Artists Program. She has performed with numerous Bay Area-based companies and has choreographed for several venues, including Cal State East Bay, Dancing in the Streets/NY and California Shakespeare Festival. Her writing has been published in an anthology of short stories, Intersecting Circles, by the Bamboo Ridge Press. Kimiko is currently a lecturer at Cal State East Bay, holds an MFA in Dance/Choreography from Mills College, and is a 2010 Artist-in-Residence at Shawl Anderson Modern Dance Center.
Click Here for info on Baby Aki — Co-Artistic Director Kimiko Guthrie's debut novel!
Eric Kupers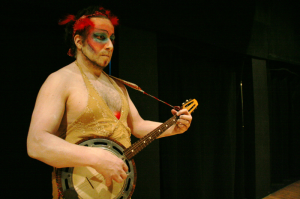 Eric Kupers has co-directed, choreographed, and performed with Dandelion since its inception, creating numerous works that have been presented throughout California, nationally, and internationally. He is deeply influenced by his work as a performer in the companies of Della Davidson and Margaret Jenkins, as well as by important teachers Charles Edmondson, Bella Lewitzky and her company, Mel Wong, Silvia Martins, Ellie Klopp and Joe Goode. Eric is an Associate Professor of Dance at Cal State University East Bay and is heading up the development of an Inclusive Interdisciplinary Performance program at the university. Eric is the director of Bandelion, an ensemble of dance, music, theater and visual artists committed to ongoing interdisciplinary research, as well as the CSUEB Inclusive Interdisciplinary Ensemble, which brings together students, alumni, community members and professional performers with and without disabilities and from diverse cultures to create original performance works. Eric aspires to create performance that resembles a collision of the work of Sweet Honey in the Rock, Pina Bausch, Contraband, and Dr. Seuss. Eric has created commissioned works for AXIS Dance Company (supported by a Princess Grace Award for Choreography), Big Moves, Cal State University East Bay, California Choreographers Festival, Dancing in the Streets/NYC, and choreography for projects by John Killacky, California Shakespeare Festival, and Highland Summer Theatre. He has been a resident artist at the Baryshnikov Arts Center, CELLspace, Jon Sims Center for the Arts, and ODC Theater.
Photos by Faye Chao