Dreaming Sabbath, Cycle 2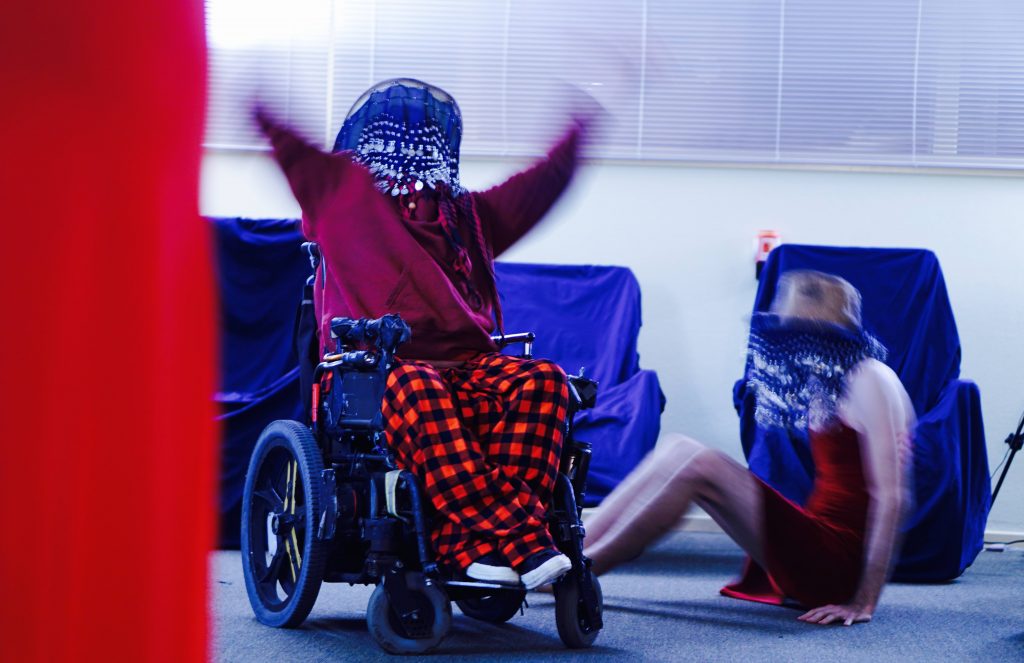 Bandelion's new dance/music/theater work is performed in collaboration with community acupuncturists, creating ACUPUNCFORMANCE.
Audience members can watch, listen, doze off, dream, meditate or all of the above, while simultaneously receiving simple acupuncture treatments. These performances are experiments in community healing, exploring dream-worlds that are co-created by performers, audiences and healers all opening to powerful energies in an intimate setting.
Tickets: $10 – $36
Purchase Tickets here: www.brownpapertickets.com/event/2888838
PLEASE NOTE UPDATED TIMES AND LOCATION:
2 Showings:
3/23 @ 8:30pm
3/24 @ 8pm
CSU East Bay Dance Studio, Room PE 140
25800 Carlos Bee Blvd.
Hayward, CA 94542
CLICK HERE FOR CSUEB CAMPUS MAP 
On Thursday night the campus requires a parking permit. We recommend buying a parking permit in Lot N on the way in from Carlos Bee Blvd., and then parking in Lot M. You can can walk along the alley next to the swimming pools and enter the building right at the dance studio. Or if Lot M is full, you can park in either Lot N or A and enter the PE building from any entrance.
On Friday a permit is not required, so we recommend parking in Lot M and following above instructions.
More information:
www.dandeliondancetheater.org
and
www.oaklandacupunctureproject.com
About community acupuncture:
https://www.pocacoop.com/what-is-ca-long-answer
Performances will last approximately 70 minutes and audience can choose from three different seating options:
1. Sit in reclining, zero-gravity chairs and receive acupuncture treatment on lower legs, arms, ears and head; or
2. Sit in upright chairs and receive simple acupuncture treatment on ears;or
3. Sit in upright chairs or on the floor and receive no treatments.
There will be only 30 spaces per evening, so buy tickets early!
*****************************************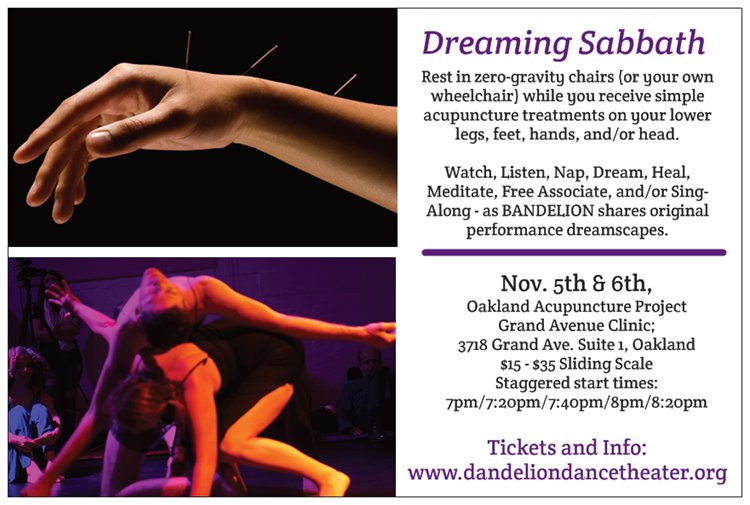 Dreaming Sabbath combines an hour long performance piece by Bandelion with actual community acupuncture treatments for audience members by Oakland Acupuncture Project (OAP.) This format is unusual for both performance and healing practices, so the following is an attempt to clarify how it will all work:
Bandelion will begin our hour-long dance/music/theater piece, exploring dreams, rest, rejuvenation, and new, inclusive mythologies– in Oakland Acupuncture Project's main space at 7pm each night. We will repeat the piece from 8pm – 9pm;
Audiences will congregate in OAP's lobby to check in and wait for designated entrance times. (Water and hot tea available as you wait);
Starting at 7pm, audience members will be guided into the main space every 20 minutes, in groups of four, to grab blankets or pillows as desired, and then to sit in a zero-gravity chair;
Two acupuncturists will travel around to hold brief, whispered conferences with each audience member and then to apply simple acupuncture treatments to lower arms, lower legs, ears and head;
Audience members are then invited to watch, listen, doze off, meditate, hum along, and above all to relax throughout the next hour or so;
The Acupuncturists will cycle through each audience grouping to apply treatments, and then to remove needles after about an hour and/or when requested;
Audience members will then be guided out of the space and back to the lobby;
Because audience groups will enter the space at different points of the Bandelion performance, each will have a different start and end point to witness, but will still experience the full performance. (For example, if one enters the space 20 minutes after the first performance has started, they will stay through the culmination of that performance and then for the first 20 minutes of the next one.)
This is an experiment investigating new formats for healing and performance, so will likely include unexpected logistical moments. We ask participating audiences to go with the flow as best as possible.
Seating is very limited so get your tickets early HERE